The MESO Revive concept is a new and unique approach towards skin improvement and rejuvenation. It is the altogether more natural, subtle, way to visibly improve the skin; a great (less invasive) alternative to Botox.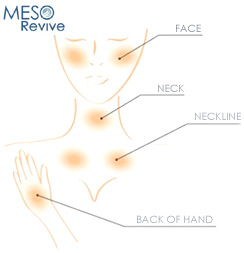 Instead of the conventional needles that are used in Semi-Permanent Makeup (SPMU), the MESO Revive cell boost concept uses a cartridge equipped with a small needle plate. The plate in each cartridge holds 18 microscopic needles and contains 13 small holes that allow for an even flow of the MESO 'ME' Revive active ingredient. MESO Revive needles fit many standard SPMU machines – please contact us to enquire.
MESO Revive is extremely versatile and you may offer treatments for several areas:
Face
Neck
Neckline
The back of the hand
The complete MESO Revive process is carried out over a course of treatments.
To offer and officially list the MESO Revive treatment in your clinic or salon; you must be qualified in the MESO Revive process. There are other MESO therapies but MESO Revive training is specific in its approach and requirement for client care and information. MESO Revive training is offfered by ADORN Makeup Academy. Details HERE.